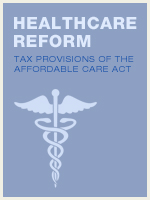 4 hours
Certificate
CTEC
IRS
NASBA
Healthcare Reform: Tax Provisions of the Affordable Care Act
The landmark legislation known as the Patient Protection and Affordable Care Act (PPACA), signed into law in 2010, is likely to affect virtually every person and institution in the United States in some way. It imposes healthcare-related requirements on health plans, health insurers, employers and individuals.
In addition to imposing various tax increases to increase revenue, the PPACA uses a carrot and stick approach to ensure compliance with its provisions, offering tax credits for compliance and imposing tax penalties for non-compliance. This course will review the principal provisions of the law and will examine its tax impact on individuals and businesses.
In so doing, it will consider the:
Coverage-related provisions of the PPACA addressing -

Plan grandfathering pursuant to which health coverage in force at the time of the law's passage may be continued,
The prohibition of pre-existing condition exclusions,
The proscription of lifetime and annual benefit limits,
The limitation of health coverage rescissions,
The requirement for certain patient protections,
The general requirement for universal health care coverage, and
The requirement that plans covering children extend child coverage until age 26;

Tax credits available to small businesses to encourage them to sponsor employee health plans;
Shared responsibility for certain large employers to provide employee health coverage and the tax penalties imposed for noncompliance;
Various personal income tax changes affecting taxpayers; and
Tax credits and tax penalties authorized to help enforce the PPACA requirement that individuals maintain minimum essential coverage.
Learning Objectives:
Upon completion of this course, you should be able to:
Describe the principal healthcare provisions of the PPACA;
Identify the tax credits for which small businesses may be eligible when sponsoring employee health plans;
Explain the shared responsibility requirements for employers regarding employee health coverage and the tax penalties imposed for the failure to meet them; and
Describe the tax credits and tax penalties designed to help ensure that individuals meet the requirement to maintain minimum essential coverage.
Field of Study: Tax
Course Level: Intermediate
Prerequisite: None
Delivery Method: QAS / Self Study
Expiration: In accordance with NASBA standards, access to this course will terminate one year from the date of purchase. Incomplete courses will no longer be accessible beyond the one year deadline.