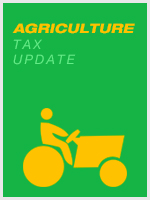 1 hour
Certificate
CTEC
IRS
NASBA
Agriculture Tax Update
This course provides a basic overview of multiple topics facing individuals working in agricultural industries.
Topics Covered:
Cash method of accounting for farms
Tax issues associated with easement payments
CRP payments as self-employment income
Income deferral for agricultural producers
Sale of farm partnership interest
Meals and lodging
Qualified farm indebtedness
Post-death sale of livestock, unharvested crops, and land
New depreciation legislation
Review of basics
Depreciation transactions involving related parties
Depreciation after incorporating
Depreciation of assets acquired as a gift
Depreciation of assets acquired in like-kind exchanges
Home office
Recapture
Correcting depreciation
Learning Objectives:
Properly apply taxes to farm depreciation issues.
Avoid mistakes in the preparation of current year tax returns.
Identify ways of reducing tax liability through effective tax planning.
Delivery Method: Self Study
Field of Study: Other Federal Tax
Prerequisites: None
Advance preparation: None
Program Level: Basic
Expiration: In accordance with NASBA standards, access to this course will terminate one year from the date of purchase. Incomplete courses will no longer be accessible beyond the one year deadline.