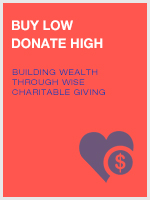 Buy Low Donate High - Building Wealth Through Wise Charitable Giving
Course Description
It is not illegal, immoral, or unethical to make money from charitable activity. However, it does require planning and proper tax treatment to maximize tax savings from charitable giving. This unique course analyses techniques that donors/ taxpayers may use to obtain the largest legal tax deductions possible.
Topics Covered:
Donations of items in a tax-motivated transaction — differences between tax schemes and donative intent
Qualified appraisals and appraisers
Importance of the holding period for charitable donations
Donations at fair market value as opposed to cost or basis
Earmarked gifts — permissible and non-permissible
Charitable tax shelter schemes
Enhanced noncash property deductions for C corporations
Introduction to joint ventures and conversion of a for-profit entity to a nonprofit public charity
Learning Objectives:
Upon successful completion of this course, participants will be able to:
Enable taxpayers to obtain maximum tax deductions for their charitable contributions
Comply with the specific requirements of IRC §170 relating to contributions
Understand the differences between tax motivation and donative intent as they relate to charitable contributions
Delivery Method: Self Study
Field of Study: Other Federal Tax
Prerequisites: None
Advance preparation: None
Program Level: Basic
Expiration: In accordance with NASBA standards, access to this course will terminate one year from the date of purchase. Incomplete courses will no longer be accessible beyond the one year deadline.