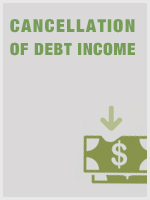 2 hours
Certificate
CTEC
IRS
NASBA
Cancellation of Debt Income
The American economy is hurting and taxpayers are suffering. People are walking away from their homes and credit card debt. When creditors write off a debt, they are required by law to issue the taxpayer/debtor a Form 1099-C, Cancellation of Debt. According to Internal Revenue Code section 61, income is taxable from whatever source it is derived. This includes the discharge of debt.
It is unfortunate that many taxpayers and their representatives are unacquainted with IRC section 108 which excludes many of these discharges or cancellations of debt from taxable income. If their discharges or cancellations of debt are properly handled when their returns are filed (or even later), taxpayers can avoid paying tax at a time when they are least able to afford making such payments.
This is a confusing area of the tax law, and many tax preparers are unaware of the IRS relief provisions that are available. Often it is not too late to ask the IRS for abatement or refund even if the normal statute of limitations has expired. Because this course focuses on an area that affects thousands of taxpayers, this class is a must for every practitioner who wants to avoid the rampant mistakes that are occurring in the application of this area of the law.
Topics Covered:
Overview of code section 108
Discussion of write-offs, foreclosures, short sales, and other discharges of debt
Preparation of Form 982, Reduction of Tax Attributes Due to Discharge of Indebtedness
Correcting Form 990 errors
Bankruptcy update — discharging IRS debt through proper inclusion in a bankruptcy estate
IRS audit reconsideration process — requesting abatements of assessed tax without an IRS appeal
Exclusion for discharge of a mortgage on a personal residence
Tools for researching the Internal Revenue Manual
Learning Objectives:
Know how to determine if a taxpayer is insolvent under IRS definitions
Understand how to prepare Form 982 and request audit reconsideration
Determine actions necessary to negate erroneous information reporting by creditors
Delivery Method: Self Study
Field of Study: Other Federal Tax
Prerequisites: None
Advance preparation: None
Program Level: Basic
Expiration: In accordance with NASBA standards, access to this course will terminate one year from the date of purchase. Incomplete courses will no longer be accessible beyond the one year deadline.