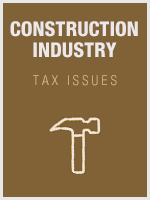 2 hours
Certificate
CTEC
IRS
NASBA
Construction Industry Tax Issues
The depressed economy has had a devastating impact on the construction industry making it imperative for tax practitioners to assist their clients to obtain all of the tax benefits that are available to them. This program addresses many of the most relevant tax issues applicable to the construction industry. It will cover the basics of the tax law and will provide insight into tax planning tools that can produce real benefits for clients.
Topics Covered:
Accounting methods and proper tax reporting
Procedures for changes in accounting methods
Capitalization of indirect costs for long-term contracts
Independent contractor versus employee classification
Tax credits
Accumulated Earnings Tax
Potential upcoming tax legislation impacting the construction industry
Bankruptcy issues
Insolvency issues
Qualified real property indebtedness
Miscellaneous

Industry codes
IRS sources of assistance
Learning Objectives:
Identify significant tax issues and apply them to the construction industry
Assist clients with tax planning issues
Determine whether workers are employees or independent contractors
Advise clients with bankruptcy or insolvency issues about tax avoidance
Delivery Method: Self Study
Field of Study: Other Federal Tax
Prerequisites: None
Advance preparation: None
Program Level: Basic
Expiration: In accordance with NASBA standards, access to this course will terminate one year from the date of purchase. Incomplete courses will no longer be accessible beyond the one year deadline.