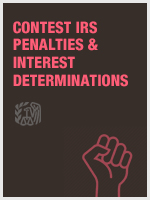 2 hours
Certificate
CTEC
IRS
NASBA
Contest IRS Penalties & Interest Determinations
Tax practice and the resolution of tax problems with the IRS can be tedious and challenging. This course will show practitioners how to navigate through the confusing IRS system and enable them to ensure that their clients receive all of the rights to which they are entitled.
Topics Covered:
Abating penalties — failure to file ,to pay, to estimate, to deposit, and others
Avoiding the understatement of tax penalty
Abatement of interest
Preparing protests to 30 day letters
Negotiating settlement agreements with appeals
Learning Objectives:
Understand how to avoid making major mistakes in dealing with the Internal Revenue Service
Learn how to provide clients with the best advice
Learn how to legally reduce clients' tax, penalty, and interest liabilities
Who will benefit:
This webinar will provide valuable assistance to all personnel in:

For profit and nonprofit organizations dealing with taxation issues
Self employed businesses
Accounting and taxation firms and service providers serving clients in tax planning, preparation, and controversy issues
Faculty and students of taxation courses
Delivery Method: Self Study
Field of Study: Other Federal Tax
Prerequisites: None
Advance preparation: None
Program Level: Basic
Expiration: In accordance with NASBA standards, access to this course will terminate one year from the date of purchase. Incomplete courses will no longer be accessible beyond the one year deadline.