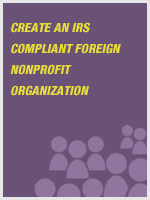 1 hour
Certificate
CTEC
IRS
NASBA
Create an IRS Compliant Foreign Nonprofit Organization
America is blessed with a wealth of compassionate individuals who aspire to help suffering people throughout the world. Developing nations need the philanthropic assistance of the Western world. If the programs are conducted properly, the U.S. government and the Internal Revenue Service allow U. S. taxpayers to support foreign causes through tax-deductible contributions. Our government never wants to see foreign entities improperly use U.S. humanitarian support for personal inurement or, even worse, the funding of terrorism.
This course will cover the strict IRS guidelines for establishing a U.S. entity that supports or actually conducts programs overseas. The course will analyze individual case studies to show the differences between properly and improperly handled programs. The course also includes a description of how a foreign entity can be approved as an IRS 501(c)(3) public charity.
Learning Objectives:
Identify the IRS requirements for establishing a U.S. entity serving a foreign country
Identify the IRS requirements for a foreign entity to be approved as an IRS 501(c)(3) public charity
Establish internal control procedures to ensure that funds for a foreign program are used properly
Avoid situations of unrelated business income tax
Use fundraising techniques to fund programs
Understand the annual reporting requirements for organizations that have foreign programs
Recognize the impact of "founder's syndrome"
Establish a joint-venture program that will lead the organization from charity to empowerment
Delivery Method: Self Study
Field of Study: Other Federal Tax
Prerequisites: None
Advance preparation: None
Program Level: Basic
Expiration: In accordance with NASBA standards, access to this course will terminate one year from the date of purchase. Incomplete courses will no longer be accessible beyond the one year deadline.