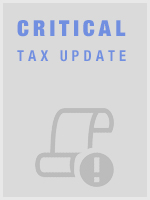 2 hours
Certificate
CTEC
IRS
NASBA
Critical Tax Update
A substantial tax development affecting millions of individuals, businesses, nonprofits, farmers, and every tax professional in the United States occurred in December 2015. For many years Congress had done nothing more than to extend prior tax provisions on an annual basis, but the Protecting Americans from Tax Hikes Act of 2015 (PROA) changes that. Now many tax provisions that were temporary have become permanent. Tax professionals and nonprofits will now be held to many new standards.
Topics Covered:
Permanent and extended tax provisions including

Child tax credit
EITC
K-12 teacher expenses
State and local general sales tax

Charitable giving

Distributions from retirement plans for charity
Donations of food inventory

Credits for jobs, investments, and innovation

Energy credits — business and personal
Depreciation — bonus and additional first-year

Discharge of indebtedness
Education expenses including 529 plans
IRS practice changes

Revised penalties and new tolerances
New claim for refund requirements
Taxpayer Bill of Rights
Social welfare organizations
Partnership audit rules
Interest abatement cases
Learning Objectives:
Understand important tax legislation affecting the filing of 2015 and later tax returns
Be able to assist clients in identifying tax planning strategies
Gain greater knowledge of IRS practice and procedure guidelines
Delivery Method: Self Study
Field of Study: Other Federal Tax
Prerequisites: None
Advance preparation: None
Program Level: Basic
Expiration: In accordance with NASBA standards, access to this course will terminate one year from the date of purchase. Incomplete courses will no longer be accessible beyond the one year deadline.