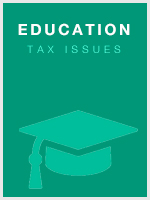 1 hour
Certificate
CTEC
IRS
NASBA
Education Tax Issues
A comprehensive discussion of qualified education expenses, available credits and general eligibility requirements.
Topics Covered:
Education credits
Tuition and fees deduction
Qualified tuition programs
U.S. savings bonds
Coverdell Education Savings Account
Form 1098-T
Student loans
Scholarships, fellowships, and tuition reductions
Other types of educational assistance
Business-related education expense deductions
Employer-provided educational assistance
Learning Objectives:
Understand significant issues affecting education deductions and income.
Avoid mistakes during the filing season.
Delivery Method: Self Study
Field of Study: Other Federal Tax
Prerequisites: None
Advance preparation: None
Program Level: Basic
Expiration: In accordance with NASBA standards, access to this course will terminate one year from the date of purchase. Incomplete courses will no longer be accessible beyond the one year deadline.