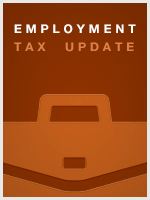 1 hour
Certificate
CTEC
IRS
NASBA
Employment Tax Update
This course will cover the resulting impact in depth by providing expert insight into recent court cases and IRS rulings that affect employment taxes and fringe benefits. It provides vital information for tax practitioners who are involved in employment tax planning and preparation.
Topics Covered:
Myths of W-2 and 1099 reporting
Changes to tax thresholds for social security and retirement plan contributions
Foreign Earned Income Exclusion - Changes and explanation
Disputing 1099 penalties and IRS employee determinations
Self Employment Taxes - Contesting the assertion in 2015 - Groetzinger Case
IRS voluntary classification settlement program
Problems with third party payroll agents
Accounting firm liability for client's payroll taxes
Severance pay — Supreme Court case
IRS following up on employee determinations
Recent Employment tax Cases
IRS Taxpayer Bill of Rights - Impact on employment taxes for 2016
Solving your own employment tax problems by mastering the Internal Revenue Manual
Court Cases and Rulings
Learning Objectives:
Describe key changes, factors, and thresholds affecting the filing of employment tax returns and the Form 1099 series of information documents
Discuss recent court cases concerning employment tax
Determine the employment status of various types of workers
Delivery Method: Self Study
Field of Study: Other Federal Tax
Prerequisites: None
Advance preparation: None
Program Level: Basic
Expiration: In accordance with NASBA standards, access to this course will terminate one year from the date of purchase. Incomplete courses will no longer be accessible beyond the one year deadline.