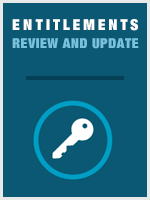 Entitlements Review & Update
Course Description
Clients believe that their accountants and tax preparers are walking encyclopedias of knowledge. Although most tax professionals have mastered tax issues, they may be confused by some of the more challenging provisions of Social Security, Medicare, and Medicaid. This unique course was designed to provide a working knowledge of the basics, planning strategies, and recent developments in these three critical government entitlements.
This course explains provisions that were changed and provides updates of new information. It shares reference sites that will allow tax professionals to interpret the information and provide meaningful advice for their clients. It makes an excellent supplement to other coursework regarding the ACA (Affordable Care Act) that has become a challenge for tax professionals, taxpayers, and insurance companies alike.
Topics Covered:
Changes in eligibility requirements
Disability criteria and recent decisions
Explanations of Medicare Parts A, B, C, and D with new developments
New tools available on federal entitlements websites
Coverage of recent court decisions
Tips for individuals covered by a retirement plan and possessing retiree hospitalization — Part B advice
Tax planning tips for SECA
Learning Objectives:
Acquire knowledge of recent changes to the three entitlement programs
Understand the factors that clients approaching the age thresholds should consider
Understand how to correlate tax planning decisions to entitlement elections
Expand awareness of various government tools available to aid decision-making
Delivery Method: Self Study
Field of Study: Other Federal Tax
Prerequisites: None
Advance preparation: None
Program Level: Basic
Expiration: In accordance with NASBA standards, access to this course will terminate one year from the date of purchase. Incomplete courses will no longer be accessible beyond the one year deadline.