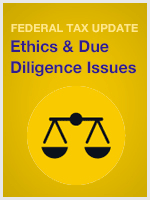 2 hours
Certificate
CTEC
IRS
NASBA
Federal Tax Update: Ethics & Due Diligence Issues
This course is designed for all tax practitioners in public and private practice who need to identify and apply the basics and recent changes in the tax law and procedures.
Topics Covered:
Due diligence
Competence
Use of tax information
New clients with previous preparers
IRS enforcement and the E-File Program
Impact of the Taxpayer Bill of Rights
Tax planning issues
Use of tax information
Disclosure
Complaints against preparers
Learning Objectives:
Identify recent changes in tax practice enforcement by the IRS
Apply new guidelines regarding competence of tax practitioners
Exercise enhanced due diligence in the preparation of tax returns
Delivery Method: Self Study
Field of Study: Ethics
Prerequisites: None
Advance preparation: None
Program Level: Basic
Expiration: In accordance with NASBA standards, access to this course will terminate one year from the date of purchase. Incomplete courses will no longer be accessible beyond the one year deadline.