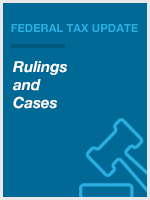 2 hours
Certificate
CTEC
IRS
NASBA
Federal Tax Update: Rulings & Cases
This course is a collection of selected cases, revenue rulings, revenue procedures, regulations, announcements, and letter rulings issued during the past year that are of interest to tax professionals.
Topics Covered:
Substantial authority
Judicial system for tax disputes
Bankruptcy and discharge of indebtedness
Business expenses
Capital gains and losses
Clergy
Corporations
Dependent issues
Divorce issues
Employment tax issues
Gross income
IRS procedures – miscellaneous
Itemized deductions
Learning Objectives
Be aware of recent events in tax practice.
Understand the hierarchy of tax authority.
Reduce mistakes in the preparation of 2015 tax returns.
Learning Objectives:
Understand significant court cases and rulings effecting 2016 tax filing
Understand the hierarchy of tax authority
Secure information on how to research new tax developments
Delivery Method: Self Study
Field of Study: Other Federal Tax
Prerequisites: None
Advance preparation: None
Program Level: Basic
Expiration: In accordance with NASBA standards, access to this course will terminate one year from the date of purchase. Incomplete courses will no longer be accessible beyond the one year deadline.