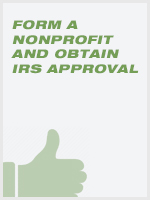 Form a Nonprofit and Obtain IRS Approval
Course Description
Creating a nonprofit organization that meets the strict IRS guidelines is a challenging task. This course focuses on the major issues that must be resolved by the organization and provides insight into the successful preparation of the IRS application for tax- exempt status.
Topics Covered:
Establishing a board of directors that meets governmental requirements
Formation of organizational bylaws
Forms of business organization for a nonprofit organization
Preparing IRS Forms 1023 and 1024 — applications for tax-exempt status
Tax and governance issues discussed in depth
Learning Objectives:
Identify the steps for the formation of a successful organization
Discover tips for preparing a complete IRS Form 1023 or 1024
Delivery Method: Self Study
Field of Study: Other Federal Tax
Prerequisites: None
Advance Preparation: None
Program Level: Basic
Expiration: In accordance with NASBA standards, access to this course will terminate one year from the date of purchase. Incomplete courses will no longer be accessible beyond the one year deadline.