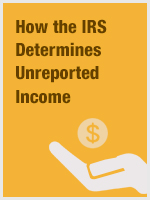 1 hour
Certificate
CTEC
IRS
NASBA
How the IRS Determines Unreported Income
The IRS is not limited reviewing only a taxpayer's books and records to verify income. IRS examiners are allowed to use specific income approaches and alternative methods to propose adjustments. This class will help practitioners to understand the approaches the IRS uses and provide them with adequate defenses for their clients.
Topics Covered:
Return selection process: how to avoid unnecessary examination
Setting the scope of examination with the IRS examiner
In-depth analysis of the source and application of funds method, cash transaction analysis, and the net worth method used to determine unreported income
Learning Objectives:
Learn how to provide the best advice for clients
Identify the most common errors the IRS makes in verifying income
Prepare adequately for an IRS examination of reported income
Delivery Method: Self Study
Field of Study: Other Federal Tax
Prerequisites: None
Advance Preparation: None
Program Level: Basic
Expiration: In accordance with NASBA standards, access to this course will terminate one year from the date of purchase. Incomplete courses will no longer be accessible beyond the one year deadline.