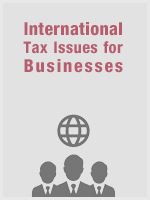 2 hours
Certificate
CTEC
IRS
NASBA
International Tax Issues for Businesses
Businesses are becoming much more involved in international transactions. Many corporations, both large and small, are either opening offices or establishing formal relationships with related entities offshore. The purpose of this course is to provide an overview of the major tax issues that affect small businesses conducting business in foreign countries.
Topics Covered:
Establishing a foreign operation
Classification for U.S. tax purposes
Introduction to competent authority and tax treaties
Overview of transfer pricing issues
Tax withholding issues
IRS enforcement of foreign tax shelter schemes
Foreign tax credit issues
Update on recent international tax developments
Tools and techniques for staying current with foreign tax issues
IRC section 482 and Subpart F income issues
Learning Objectives:
Indentify the tax requirements for the establishment of a foreign operation
Understand the most significant transfer pricing issues
Comply with IRS withholding requirements for offshore U.S. employers
Identify tax-saving tools to legally reduce foreign-based income
Identify recent major tax changes affecting international corporate taxpayers
Delivery Method: Self Study
Field of Study: Other Federal Tax
Prerequisites: None
Advance Preparation: None
Program Level: Basic
Expiration: In accordance with NASBA standards, access to this course will terminate one year from the date of purchase. Incomplete courses will no longer be accessible beyond the one year deadline.