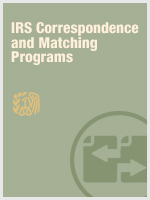 2 hours
Certificate
CTEC
IRS
NASBA
IRS Correspondence & Matching Programs
Seventy-five percent of all IRS audits are conducted through correspondence rather than in face-to-face confrontation. The audits, which are automated and centralized, are conducted using standardized and extremely inflexible procedures. Although it would seem that this type of audit would be less burdensome, in a majority of situations it amounts to trying to establish a pen pal relationship with a pre-programmed computer.
Topics Covered:
In-depth analysis of IRS audit selection process – which issues generate an IRS correspondence audit?
The IRS return classification process
Identification of the types of tax returns (i.e., 1040, 1120, 1065) selected for correspondence examination
Tips to avoid a return being selected unnecessarily
Proper techniques for answering inquiries by mail or telephone
How to save time unless you enjoy listening to the IRS's music while you wait for someone to answer
How to request a field examination
Delays of tax refunds
Earned income credit inquiries
Appealing a correspondence audit's negative findings
How to avoid penalties
Overview of 1099 reporting
Researching the IRS Manual
Learning Objectives:
Understand the IRS audit selection criteria.
Understand the IRS audit selection criteria.
Learn how to eliminate unagreed cases that require resolution by the IRS appeals function.
Delivery Method: Self Study
Field of Study: Other Federal Tax
Prerequisites: None
Advance Preparation: None
Program Level: Basic
Expiration: In accordance with NASBA standards, access to this course will terminate one year from the date of purchase. Incomplete courses will no longer be accessible beyond the one year deadline.