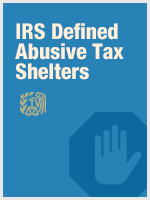 2 hours
Certificate
CTEC
IRS
NASBA
IRS Defined Abusive Tax Shelters
Over the years abusive tax shelters have evolved from simple transactions into very sophisticated strategies that now often border on tax evasion schemes. There is nothing wrong with sheltering tax through legal tax shelters. This class takes an in-depth look at violations of the Internal Revenue Code and the techniques the IRS utilizes to counteract these schemes. The class focuses on legitimate techniques for reducing a client's tax liability. The student will be able to discern the differences between bogus and legitimate shelters. The course will include in-depth discussion of IRS enforcement practices with special emphasis on penalty and sanction issues that can arise from practitioner or taxpayer involvement in abusive tax schemes.
If it sounds too good to be true, it probably is not true!
Topics Covered:
Criteria that can be used to determine whether a particular offering is an abusive tax shelter
Techniques to determine the economic reality of a shelter investment versus a tax sham
Overvaluation issues relating to depreciation, interest, and credits
History of tax legislation impacting tax shelter investment
Examples of individual and corporate tax shelters
Pitfalls of being a promoter of abusive tax shelter schemes and the possibility of IRS sanctions
Techniques for avoiding substantial understatement of income penalty and overvaluation penalties
IRS examination techniques used during audits of purported tax shelters
Identification of IRS-identified abusive foreign tax schemes with emphasis on the UBS Bank debacle
2014IRS industry tax shelter targets
Value of disclosing a questionable position
Appeals of tax shelter investigations
Learning Objectives:
Identify what the IRS defines as an abusive tax shelter scheme
Understand the IRS approach to counteracting abusive tax shelter schemes
Effectively advise and represent clients
Understand techniques for avoiding penalties and possible sanctions for improper tax practice
Determine whether actions taken as a client's representative are in compliance with IRS Circular 230
Help clients understand the economic realities of a marketed tax shelter
Delivery Method: Self Study
Field of Study: Other Federal Tax
Prerequisites: A basic understanding of the difference between tax avoidance (legal) and tax evasion (illegal)
Advance Preparation: None
Program Level: Intermediate
Expiration: In accordance with NASBA standards, access to this course will terminate one year from the date of purchase. Incomplete courses will no longer be accessible beyond the one year deadline.