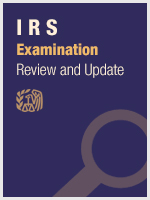 1 hour
Certificate
CTEC
IRS
NASBA
IRS Examination Review & Update
This course offers students a unique opportunity to learn from two tax professionals as they share their expertise in a myriad of IRS practice and procedure subjects. Both Stuart Sobel and Steven Mopsick retired from high-level positions with the Internal Revenue Service. Since their retirement, they have practiced extensively in the private sector.
This course focuses on the challenging subject of IRS examination procedures. Stuart and Steven's wisdom can help you find answers to tax dilemmas when you are dealing with IRS collection.
Topics Covered:
IRS examination rates
Large corporate examination de-emphasis — Issues not considered
Development of IRS examination plan
IRS examination selection process
Representation before a revenue agent
IRS exam techniques
How to protect a client from improper IRS actions
Techniques IRS uses to determine unreported income
C Corporation income issues — preferential dividends, expansion of investigations
IRS improper use of evidence to sustain a position
IRS document requests and summons
Learning Objectives:
Understand representation of a client before an IRS examination official
Attain improved knowledge of IRS areas of emphasis
Have improved knowledge of IRS examination and return selection techniques
Avoid tax malpractice mistakes in client representation
Delivery Method: Self Study
Field of Study: Other Federal Tax
Prerequisites: None
Advance Preparation: None
Program Level: Basic
Expiration: In accordance with NASBA standards, access to this course will terminate one year from the date of purchase. Incomplete courses will no longer be accessible beyond the one year deadline.