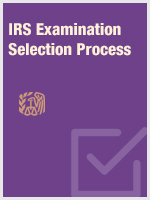 2 hours
Certificate
CTEC
IRS
NASBA
IRS Examination Selection Process
There are some lotteries you want to win, but the IRS "audit lottery" is not one of them. Although to many tax practitioners the IRS seems to be a clandestine organization, the vast majority of its practices and procedures are public information. The IRS could do a much better job of educating its customers (tax practitioners) about the intricacies of the tax system.
Once the Internal Revenue receives a filed tax return for processing, many actions occur. First refunds are generated and balances due are processed. This course will unravel and demystify what happens next.
Computers, classifiers, referrals, informants, and many other sources generate IRS examinations. The IRS is selective in determining which tax returns it will examine, but many examinations could have been avoided if the tax returns themselves had provided a bit more information and clarification. This course is a must for practitioners who need more knowledge about the IRS's ever-changing methods of audit selection.
Topics Covered:
IRS initial processing of a tax return
How to research in the Internal Revenue Manual
DIF — Discriminate Information Function — overview of the IRS computer selection process
IRS planning process — formation of the IRS examination plan and its impact on determining which returns are selected for examination
IRS statistics relating to return selection
IRS policy statements — determining the substantially correct amount of tax
IRS classification process — what happens after the computer selects a return and what the (human being) classifier looks for when determining which returns are selected for audit
Overview of IRS special programs — tax shelters, tax protesters, S corporation compensation issues, EITC, itemized deductions, exemptions, T and E, unreported income, and many others
IRS confidential informant program and rewards
Correspondence, office, or field audit — criteria for selection
Examination manager and Revenue Agent/Tax Auditor/Estate Tax Attorney authority to terminate an examination
Learning Objectives:
Understand the audit selection process
Learn how to reduce the chances of the IRS selecting returns for examination
Have improved comprehension of IRS terminology
Delivery Method: Self Study
Field of Study: Other Federal Tax
Prerequisites: None
Advance Preparation: None
Program Level: Basic
Expiration: In accordance with NASBA standards, access to this course will terminate one year from the date of purchase. Incomplete courses will no longer be accessible beyond the one year deadline.