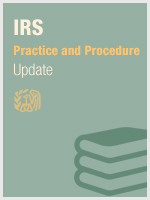 2 hours
Certificate
CTEC
IRS
NASBA
IRS Practice & Procedure Update
While most practitioners stay current on developments in rulings and regulations, it can be more difficult to find useful information that covers new IRS pronouncements on procedures and ethical guidelines.
This course is here to help. Stuart Sobel, an IRS expert with 49 years of unique tax experience, will help you to stay current, reduce wasted time, and diminish stress in your tax practice.
Topics Covered:
How to research the Internal Revenue Manual
Significant changes to IRS Circular 230 and the status of legislation dealing with mandating all preparers be governed by IRS Circular 230 — Wyden/Hatch Bill
IRS Examination program new developments — changes in examination targets
Offers in compromise, installment agreements, and other collection actions
IRS reductions in taxpayer service
IRS penalties — preparing Forms 8275 and avoiding penalties
Major IRS problems identified by IRS advisory group and the Treasury Inspector General for Tax Administration
Offshore voluntary initiative and hot international tax issues
New IRS tools and resources that save valuable time
Learning Objectives:
Acquire new information about recent developments in IRS practice and procedures
Research the Internal Revenue Manual
Implement new techniques that will reduce their clients' tax liabilities
Properly advocate for their clients
Delivery Method: Self Study
Field of Study: Other Federal Tax
Prerequisites: None
Advance Preparation: None
Program Level: Basic
Expiration: In accordance with NASBA standards, access to this course will terminate one year from the date of purchase. Incomplete courses will no longer be accessible beyond the one year deadline.