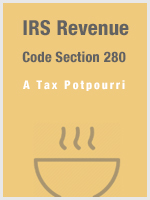 2 hours
Certificate
CTEC
IRS
NASBA
IRS Revenue Code Section 280 - A Tax Potpourri
Webster's Dictionary defines the word potpourri as a collection of different, unrelated things. The U.S. Congress and the Internal Revenue Service have made code section 280 into a potpourri by using it not only as a repository for a myriad of very significant tax provisions, but also as a dumping ground for many trivial ones.
These provisions impact millions of taxpayers. Wealthy and poor individuals, corporations, partnerships, families, personal care corporations, and even illegal drug dealers can get into deep tax trouble if they do not abide by certain provisions.
Topics Covered:
Business usage of the home
Commuting expenses
Day care services
Rental from an employee
Rentals to family members
Demolition of structures
Disallowance of deductions when credits are available
Expenditures in connection with the illegal sale of drugs-
Luxury automobile limitations
Limitations on property used for personal purposes
Golden parachutes
Limitations on amounts paid by personal service corporations electing alternative taxable years
Learning Objectives:
Understand the home office deduction
Avoid disallowances of commuting expenses
Discover proper treatment of family rentals
Understand tax planning techniques for golden parachutes
Delivery Method: Self Study
Field of Study: Other Federal Tax
Prerequisites: None
Advance preparation: None
Program Level: Basic
Expiration: In accordance with NASBA standards, access to this course will terminate one year from the date of purchase. Incomplete courses will no longer be accessible beyond the one year deadline.