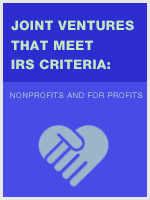 Joint Ventures That Meet IRS Criteria: Nonprofits and For Profits
Course Description
Our challenging economy has forced nonprofit organizations to become more creative. They can no longer rely on the paradigms of the past to create meaningful programs and secure adequate funding. This course will provide insight and techniques, which meet the strict requirements of the IRS and other governmental authorities, for growing and sustaining organizations. The course provides the student with real examples of how organizations established programs that were unique and non-traditional to grow and sustain there operations. The challenging subject of unrelated business income will be clarified for programs of this type.
Topics Covered:
Programs that can be conducted through joint ventures
Forms of business organization
Activities conducted with disqualified persons
Securing IRS permission for new activities
Reporting activity on Form 990
Unrelated Business Taxable Income
Learning Objectives:
Identify techniques for establishing a joint venture
Understand how to comply with IRS guidelines relating to joint ventures
Delivery Method: Self Study
Field of Study: Other Federal Tax
Prerequisites: An understanding of the basic rules or entity formation
Advance preparation: None
Program Level: Intermediate
Expiration: In accordance with NASBA standards, access to this course will terminate one year from the date of purchase. Incomplete courses will no longer be accessible beyond the one year deadline.