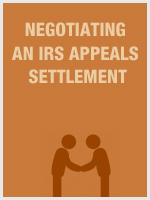 2 hours
Certificate
CTEC
IRS
NASBA
Negotiating an IRS Appeals Settlement
Tax practice and the resolution of tax problems with the IRS can be tedious and challenging. This course will show practitioners how to navigate through the confusing IRS Appeals system and resolve cases. IRS Appeals Officers can consider hazards of litigation and settle cases in the bst interests of the taxpayer and IRS. Stu Sobel shares his 50 years of tax wisdom inside and outside of the IRS.
Topics Covered:
Hierarchy of tax authority
Preparing a meaningful IRS Protest Letter
Understand the different types of IRS case closure
Negotiating settlement agreements with appeals
How to utilize oral testimony, circumstantial evidence, and hearsay to sustain positions
How to contest an adverse employee/independent contractor determination
Abating penalties
More
Learning Objectives:
Recognize how to avoid making major mistakes in dealing with the Internal Revenue Service
Identify how to provide clients with the best advice
Identify how to legally reduce clients' tax, penalty, and interest liabilities
Delivery Method: Self Study
Field of Study: Other Federal Tax
Prerequisites: None
Advance preparation: None
Program Level: Basic
Expiration: In accordance with NASBA standards, access to this course will terminate one year from the date of purchase. Incomplete courses will no longer be accessible beyond the one year deadline.