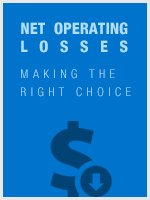 2 hours
Certificate
CTEC
IRS
NASBA
Net Operating Losses - Making the Right Choice
Our economy is in dire straits. Businesses are failing. For the first time after years of profit; individuals, flow-through entities, and corporations are experiencing loss years.
The computing and reporting of net operating losses can be very complex. Taxpayers can make elections to either carry back their losses or to carry them forward to future years. Before they decide, they need answers to some questions:
What is the carryback period, and will there be a tax savings?
Is there a tax benefit to carrying the losses forward to more profitable future years?
Should losses be claimed on a Form 1045 or an amended return?
What adjustments must be made in order to calculate the allowable tax refunds?
Does the taxpayer know about all of the choices?
This program will provide an excellent overview of net operating loss (NOL) requirements and pitfalls.
Topics covered:
History of the NOL
Carryback or carryforward — making the correct election
Form 1045 or amended return
Net operating losses for individuals
Non-business deductions
Non-business income
Non-business capital losses
Impact on IRA deductions, Social Security taxation, educational deductions, casualty losses, and medical expenses
Exceptions to 2-year carryback requirements
Disasters
Farm losses
How to claim and compute the deduction
Deducting a carryback
Deducting a carryforward
Change in marital status
Change in filing status
Flow-through entities — limitation of losses
IRC section 382 limitation — ownership changes
Impact of debt forgiveness on NOLs
Form 1138 — extensions for filing
Form 1139 — Trusts, estates, and corporations — the "quick refund"
Learning Objectives:
Understand how to compute both net operating loss carrybacks and carryforwards.
Avoid costly mistakes in tax planning.
Prepare the various forms that are required to claim a net operating loss.
Delivery Method: Self Study
Field of Study: Other Federal Tax
Prerequisites: None
Advance preparation: None
Program Level: Basic
Expiration: In accordance with NASBA standards, access to this course will terminate one year from the date of purchase. Incomplete courses will no longer be accessible beyond the one year deadline.