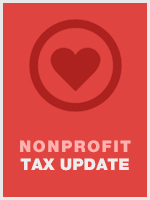 1 hour
Certificate
CTEC
IRS
NASBA
Nonprofit Tax Update
Since 2011, over 450,000 organizations lost their tax-exempt status. This course provides in-depth coverage of both the causes and solutions of this major issue. You will learn about new changes and how to avoid some of the major pitfalls that could be lurking in the next year. This course is a necessity for tax practitioners who must navigate through the IRS minefields of nonprofit tax laws and procedures.
Topics Covered:
IRS 501(c)(4) problems and the crisis with nonprofit applications
IRS revocation of tax-exempt status and a current update of solutions that are available to the victims of this harsh action — new procedures
Recent Form 990 changes
IRS target areas
The interactive Form 1023 EZ
Nonprofit governance practices — new IRS emphasis
GAO Report on Nonprofit Compliance
Tax-motivated transactions or donative intent?
Taxpayer Bill of rights
IRS reorganization of nonprofit operation
Court cases and rulings
Learning Objectives:
Identify recent tax changes that impact the filing of the Form 990 series of tax returns
Understand and apply changes for obtaining reinstatement of IRS tax-exempt status
Explain to clients how the currently challenged economy affects the nonprofit sector
Avoid some of the legal pitfalls that could impact nonprofits in the current tax year
Delivery Method: Self Study
Field of Study: Other Federal Tax
Prerequisites: None
Advance preparation: None
Program Level: Basic
Expiration: In accordance with NASBA standards, access to this course will terminate one year from the date of purchase. Incomplete courses will no longer be accessible beyond the one year deadline.