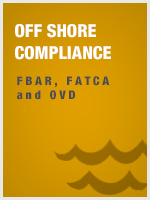 1 hour
Certificate
CTEC
IRS
NASBA
Off Shore Compliance - FBAR, FATCA and OVD
The United States taxes its people on the basis of its citizenship as opposed to residence based taxation which is the system in place in the rest of the civilized world. From this arises all the issues with withholding, foreign tax credits, tax treaties, international information gathering. The goal of FATCA , enacted five years ago, is to establish a virtual international, financial and banking data base of both US persons, as well as FATCA partners, which can be accessed at will by the US and its FATCA partners. FATCA requires every bank in the world whose business involves, even indirectly, the movement of U.S. source income, to register electronically with either the IRS itself or its own government which has already agreed to turn over to the IRS, report the names of all their depositors which show some signs of being American.
Topics Covered:
How FATCA works
IRS filing requirements
Avoiding withholding requirements
Non-financial foreign entities
Bank Secrecy Act — not part of Internal Revenue Code
Overview of new IRS Manual provisions
Foreign bank reporting
Introduction to FBAR
Who is a US person
Determining values of accounts
Signature authority
Filing exceptions
Penalties
Options available for non-disclosed foreign assets by US taxpayers
Learning Objectives:
Understand IRS Offshore compliance techniques
Provide clients with improved representation
Avoid or appeal IRS pennaltiew
Reduce chances of IRS malpractice claims by clients
Delivery Method: Self Study
Field of Study: Other Federal Tax
Prerequisites: None
Advance preparation: None
Program Level: Basic
Expiration: In accordance with NASBA standards, access to this course will terminate one year from the date of purchase. Incomplete courses will no longer be accessible beyond the one year deadline.