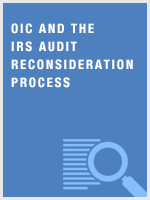 2 hours
Certificate
CTEC
IRS
NASBA
OIC and the IRS Audit Reconsideration Process
There are firms that promote themselves as tax magicians who can make taxpayers' IRS debts just simply disappear. They claim that they have had almost total success securing IRS offers in compromise.
This class is a realistic approach to resolving substantial IRS tax debts. While the tax magicians provide dubious claims of success, students in this class will learn about the IRS approach to accepting offer in compromise submissions and how they can make judicious use of the offer in compromise process. The class delves deeply into several techniques including the offer in compromise, audit request for reconsideration, bankruptcy tax debt elimination, and penalty abatement.
Topics Covered:
Criteria for submitting a valid offer in compromise application
The IRS screening and approval process for offers
Comparisons of the different types of offers: cash, short-term deferred, and long- tem-deferred
Mistakes in the preparation of a taxpayer's financial statement
Tax relief for an insolvent not bankrupt non-bankrupt taxpayer
How to request abatement of an IRC examination assessment due to doubt as to liability
Proper filing of a bankruptcy estate to eliminate IRS debt
Learning Objectives:
Properly advise clients about the chances of successfully obtaining an offer in compromise from the IRS
Prepare the challenging offer in compromise application and its accompanying financial statements
Identify the potential of relief available to taxpayers through the IRS audit reconsideration process
Understand how to get federal income taxes discharged in a bankruptcy filing
Delivery Method: Self Study
Field of Study: Other Federal Tax
Prerequisites: None
Advance preparation: None
Program Level: Basic
Expiration: In accordance with NASBA standards, access to this course will terminate one year from the date of purchase. Incomplete courses will no longer be accessible beyond the one year deadline.