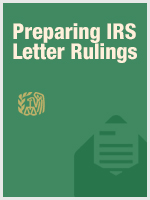 Preparing IRS Letter Rulings
Course Description
Tax planning is "fire prevention" and tax preparation is "arson investigation". The typical tax practitioner focuses on the preparation of last year's tax returns. They are more reactive than proactive. Taxpayers worry about how the IRS will react to their handling of transactions and the related tax reporting. The IRS can assert egregious penalties for improper tax filings. Is it possible to find out what the IRS position is on a proposed transaction? Can you go forth with an event and feel comfortable to know that the IRS will accept your interpretation of the law and not subject you or your client to an examination or long challenging tax controversy events?
The answer is yes to all the questions above. The IRS has procedures that expedite action and secure concurrence with your interpretations of the law. This unique course will go into detail into the methods that can be utilized by taxpayers and their representatives.
The course will go into detail into very challenging techniques to defend and support clients. If you wish to master a very sophisticated way of planning for the future and avoiding chaos later on, this course is for you.
Topics Covered:
Preparing a binding letter ruling request for future transactions
How to ask the IRS their technical interpretation of the tax ramifications of some action in writing
Preparing a request for a change of accounting method or finding out when one is not necessary
Understanding the differences in preparing different types of opinions for taxpayers in accordance with IRS Circular 230
Navigating the IRS website for relevant information
How to contest an adversarial response from the IRS
Learning Objectives:
Understand proactive approaches to gain IRS insight in transactions
Utilize varying techniques to defend a client
Learn how to comply with Circular 230 guidelines relating to writing tax opinions
Delivery Method: Self Study
Field of Study: Other Federal Tax
Prerequisites: Experience in representing clients in tax controvery matters
Advance preparation: None
Program Level: Intermediate
Expiration: In accordance with NASBA standards, access to this course will terminate one year from the date of purchase. Incomplete courses will no longer be accessible beyond the one year deadline.