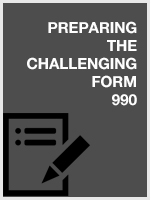 Preparing the Challenging Form 990
Course Description
The object of this course is to train both new and experienced staff accountants and other preparers to deal with the challenges of filing the Form 990 series of tax returns. You'll learn strategies to expedite the preparation of the return, electronic filing requirements, and how to navigate complex nonprofit taxation issues.
Topics Covered:
Preparation of the required summary of the organization's mission, activities, and financial results
Statement of program service accomplishments
Statements regarding other IRS filings and tax compliance
Governance, management, and disclosure information regarding governing bodies
Compensation schedules for officers, directors, and key employees
Supplemental financial statements
Schedule of activities outside of U.S.
Supplemental information relating to fundraising or gaming activities
Grants or other assistance to organizations, governments, and individuals
Transactions with interested persons that engage in certain relationships or transactions
Noncash contributions
Political expenditures and lobbying restrictions
Reconciliations between book and tax returns
Learning Objectives:
Develop strategies to expedite the preparation of the return
Effectively market the organization through the creation of strong narratives which are positively read by foundations, donors, government agencies, media, and others
Discuss complex issues related to nonprofit taxation issues which are reported on the Form 990
Describe IRS and state issues, including penalties, dissolution, examinations, and improper classification of tax exempt status
Delivery Method: Self Study
Field of Study: Other Federal Tax
Prerequisites: None
Advance preparation: None
Program Level: Basic
Expiration: In accordance with NASBA standards, access to this course will terminate one year from the date of purchase. Incomplete courses will no longer be accessible beyond the one year deadline.