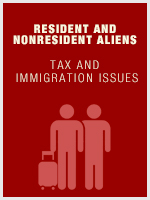 2 hours
Certificate
CTEC
IRS
NASBA
Resident and Nonresident Aliens - Tax and Immigration Issues
The United States has many classifications of people living within its boundaries. Terms like resident aliens, nonresident aliens, dual-status aliens, expatriates, visas, special immigrants, and undocumented aliens are not merely confusing. They also have a significant impact on the filing of Forms 1040 and 1040NR.
This unique class will discuss not only the preparation of the various tax forms, but it will also provide an improved understanding of the concepts of U.S. immigration and its impact on tax compliance.
Topics Covered:
Classification of taxpayers for tax purposes — U.S. and foreign
Coming to America

Immigration update
Immigrant visas — overview of types
Immigration application process
Impact of the Dream Act

Green card test
Substantial presence test
Closer connection to foreign country test
Form 1040NR

Who must file?
Election to be taxed as a resident alien
How to claim refunds
Dual-status aliens
How to report income on Form 1040NR
Election to treat income as effectively connected with a U.S. trade or business
Recent changes in 1040NR filing

Withholding and Social Security tax issues
Learning Objectives
Recognize the difference between a U.S. citizen, resident alien, nonresident alien, and a dual-status alien
Secure a basic knowledge of U.S. immigration law, visas, and other nontax issues affecting the tax liability of noncitizens residing in the United States
Understand the filing requirements for Form 1040NR
Be able to explain tax planning tools to clients currently residing in the United States
Delivery Method: Self Study
Field of Study: Other Federal Tax
Prerequisites: None
Advance preparation: None
Program Level: Basic
Expiration: In accordance with NASBA standards, access to this course will terminate one year from the date of purchase. Incomplete courses will no longer be accessible beyond the one year deadline.