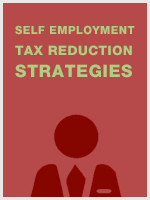 2 hours
Certificate
CTEC
IRS
NASBA
Self Employment Tax Reduction Strategies
It is neither immoral nor unethical to look for ways to reduce one's tax liability. The 15.3% self-employment tax asserted against sole proprietors, farmers, partners, and others is an enormous burden for the typical taxpayer. This unique class provides strategies to reduce self-employment taxes by implementing effective tax planning techniques.
Topics Covered:
What is self-employment tax?
Self-employment tax planning issues for partners
Trade or business? — impact of the Groetzinger case
Contesting a Form 1099-MISC — line 21 or Schedule C?
Disclosing a questionable position — avoiding penalties
Deducting spouse's insurance on a Schedule C
Husband and wife joint venture — reducing self-employment tax for one spouse
Request for employment tax ruling — eliminating self-employment tax and substituting FICA tax
LLC guaranteed payments or one-time payment?
Reducing Schedule C income through home office and auto expense allowances
Become an expatriate and pay less self-employment tax
Create an S corporation and pay reasonable salaries
Retirement strategies for the older taxpayer that reduce self-employment tax for a person currently receiving social security
Trader, investor, and market-to-market election — Schedule C with no self- employment tax
Learning Objectives:
Understand self-employment tax requirements
Determine whether an activity is a trade or business
Develop techniques to reduce self-employment tax liability through effective tax planning
Structure businesses that will reduce their clients' tax liability
Delivery Method: Self Study
Field of Study: Other Federal Tax
Prerequisites: None
Advance preparation: None
Program Level: Basic
Expiration: In accordance with NASBA standards, access to this course will terminate one year from the date of purchase. Incomplete courses will no longer be accessible beyond the one year deadline.