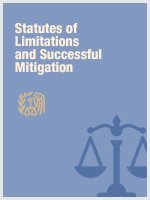 1 hour
Certificate
CTEC
IRS
NASBA
Statutes of Limitations and Successful Mitigation
This unique course covers a very confusing area of tax compliance. There are many situations where the statute of limitations differs from the 3-year period. Additionally there are relief provisions for both the taxpayer and the IRS if the statute has expired and it results in inconsistent treatment for either party.
Due to its budgetary crisis, it is difficult to get guidance from the Internal Revenue Service. Taxpayers and tax professionals alike must now fend for themselves by researching the IRS website for information.
How long can the IRS pursue an examination or collection action? Is it possible to advise the IRS that it does not have the legal authority to assess a tax and to ask it to please refrain from action against you, your business, or your client?
This class will cover the impact of a net operating loss and the impact of a carry back on normally closed years. It will also cover IRS policies relating to extended failure to file situations and Internal Revenue Code sections 1311, 1312, and others that provide relief to taxpayers.
Topics Covered:
Statutes of limitations for many different types of tax situations
Advice on whether or not to extend the statute of limitations in a tax controversy situation
Impact of a net operating loss on the statute of limitations
How to advise the IRS that a statute of limitations has expired and that the IRS is prohibited from assessing tax
Filing protective claims for refund in order to protect the statute of limitations in the taxpayer's favor
Utilizing the mitigation of statute of limitations provisions to protect the taxpayer from inconsistent IRS treatment
Learning Objectives:
Understand the different statutes of limitations for assessment and collection
Acquire techniques that can be used to avoid inconsistent treatment by the IRS
Learn how to use the IRS website to research solutions to complicated statute of limitations questions
Delivery Method: Self Study
Field of Study: Other Federal Tax
Prerequisites: None
Advance preparation: None
Program Level: Basic
Expiration: In accordance with NASBA standards, access to this course will terminate one year from the date of purchase. Incomplete courses will no longer be accessible beyond the one year deadline.