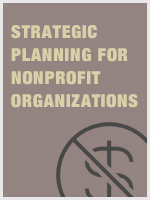 2 hours
Certificate
CTEC
IRS
NASBA
Strategic Planning for Nonprofit Organizations
Although a nonprofit organization may have admirable goals and dreams, many organizations do not achieve their potential and some fail completely. While the board of directors has the responsibility to lead the entity to success, many boards fail because the board lacks the knowledge, time, resources, or commitment that are needed to make an organization successful.
Many organizations wander aimlessly; they raise money, but never conduct meaningful programs. Other organizations seem themselves as winners, but the community and their clients perceive them as failures.
This course provides insight into the workings of a nonprofit organization. It will help the participant understand the organization's need for a strategic plan. It will show the participant how to create a clear vision that is both measurable and achievable. Additionally it will explain how to prioritize goals and how to create actions or strategies that will enable the organization to meet its goals.
Topics Covered:
Why organizations fail
Creating measurable standards to monitor actions and achievements
Developing a nonprofit business plan
SWOT Analysis — Strengths, Weaknesses, Opportunities, and Threats
Creating a clearly defined exempt purpose
Training board members to be leaders
Importance and methods of establishing a meaningful budget
Developing a marketing plan
Techniques for making the IRS a partner rather than an adversary in establishing and sustaining the organization
Creating a central organization/affiliate structure
Reducing administration and fundraising expenses to increase the funds for program services
Impact of state nonprofit tax regulation
Avoiding unrelated business income tax
Learning Objectives:
Recognize the importance of a board that is capable of achieving the organization's goals
Maximize program service expenses while reducing administration and fundraising expenses
Create an effective marketing plan
Avoid the unrelated business income tax
Develop measurable standards to monitor the achievement of goals
Delivery Method: Self Study
Field of Study: Other Federal Tax
Prerequisites: None
Advance preparation: None
Program Level: Basic
Expiration: In accordance with NASBA standards, access to this course will terminate one year from the date of purchase. Incomplete courses will no longer be accessible beyond the one year deadline.