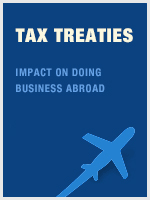 Tax Treaties: Impact on Doing Business Abroad
Course Description
Times have changed! Technological innovations have greatly simplified doing business abroad, but there is a problem. The countries of the world do not administer their tax systems in a unified manner, and the United States has tax treaties with 69 of the world's 195 recognized countries. Wise choices must be made when determining in which countries to do business and how to transact that business. This class will provide insight into the tax treaty process and its impact on doing business abroad.
Topics Covered:
Overview of the international tax environment and a fundamental look at the impact of our distressed economies
How tax treaties are developed
United States income tax treaties A to Z
How to research tax treaties
In-depth discussion of the United States' treaties with Canada, Mexico, Israel, and the United Kingdom
Discussion of double tax relief
How to claim treaty benefits
Expatriate U.S. citizens — deciding where to reside based on tax treaty issues
Treaty assistance and IRS competent authority resolution of problems
Learning Objectives:
Acquire a better understanding of the international tax environment
Determine the tax impact of choosing to do business in specific countries
Avoid problems by researching tax treaties for specific types of business transactions
Improve researching skills for treaty interpretation
Avoid some double taxation situations
Delivery Method: Self Study
Field of Study: Other Federal Tax
Prerequisites: None
Advance preparation: None
Program Level: Basic
Expiration: In accordance with NASBA standards, access to this course will terminate one year from the date of purchase. Incomplete courses will no longer be accessible beyond the one year deadline.