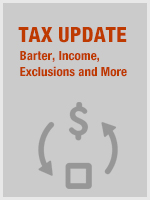 1 hour
Certificate
CTEC
IRS
NASBA
Tax Update Barter, Income, Exclusions and More
What if money did not exist? How would you secure a livelihood? How could the IRS tax you on a business? Can a business with no cash secure the products and services it needs to become profitable? What types of income does the IRS exclude from income? Is it wrong to use tax shelters to purposely avoid paying taxes?
This unique program answers these challenging questions. Barter and trade have existed for thousands of years. It is neither illegal nor immoral to use ingenuity to grow a business or to save money on taxes. By properly engaging in planning and understanding the differences between realized and recognized income for tax purposes, a business taxpayer can save tax dollars.
This 1-hour course explains the tax aspects of barter and trade in very understandable terms. It also provides money-saving tools through the use of effective tax planning and explains the differences between realized income and recognized income, which is not currently subject to taxation.
Topics Covered:
IRS definition of a business — hobby versus business
Benefits of utilizing barter in a business
Recognition of barter income for tax purposes
Analysis of barter transactions and taxability issues
Donations of barter balances from a trade exchange as opposed to in-kind donations to a charity
Barter exchanges — tax requirements
Recent IRS overview
Definitions of realized and recognized income
Explanation of nontaxable fringe benefits
Analysis of the exclusion sections of the Internal Revenue Code - IRC 101-139
Learning Objectives:
Understand how the concept of barter and trade can benefit a business
Learn the tax consequences of various types of barter or trade transactions
Recognize the requirements of a barter or trade exchange for tax reporting
Understand the differences between realized and recognized income
Improve tax planning skills through more effective use of Internal Revenue Code sections 101-139
Delivery Method: Self Study
Field of Study: Other Federal Tax
Prerequisites: None
Advance preparation: None
Program Level: Basic
Expiration: In accordance with NASBA standards, access to this course will terminate one year from the date of purchase. Incomplete courses will no longer be accessible beyond the one year deadline.