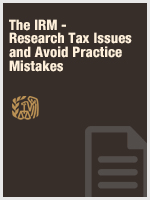 2 hours
Certificate
CTEC
IRS
NASBA
The IRM - Research Tax Issues and Avoid Practice Mistakes
The Internal Revenue Service is perceived as a clandestine, secretive organization. This class was created to reduce ignorance of the tax system, improve knowledge of IRS processes, save valuable time representing clients, and reduce the grief associated with resolving tax dilemmas.
Topics Covered:
Techniques for accessing and researching in the Internal Revenue Manual
How to provide relief for a delinquent taxpayer
Tools and techniques for dealing with IRS Service Center processing problems
Overview of what transpires during an IRS examination by a revenue agent and how the IRS evaluates the examiner
How to negotiate an offer in compromise
Techniques for working with the IRS appeals function
Analysis of the IRS privacy, disclosure, and informant programs
Utilizing the IRS Taxpayer Advocate's Office to protect clients
Resolving IRS penalty and interest assertions in the best interests of the client
Overview of the IRS litigation process and client rights
Learning Objectives:
Avoid future problems by researching the IRS Manual
Effectively negotiate on behalf of a client when the IRS fails to follow its own procedures
Delivery Method: Self Study
Field of Study: Other Federal Tax
Prerequisites: None
Advance preparation: None
Program Level: Basic
Expiration: In accordance with NASBA standards, access to this course will terminate one year from the date of purchase. Incomplete courses will no longer be accessible beyond the one year deadline.