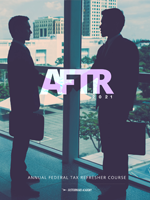 6 hours
Certificate
CTEC
IRS
2022 Annual Federal Tax Refresher Course
The AFTR course exam must be successfully completed by December 31st (midnight local time) to receive credit. The IRS will not accept completions after this date. We report completions to the IRS based on the date and time you finished the exam.
This course is for non-exempt preparers (see who is exempt below) who want to receive an IRS Annual Filing Season Record of Completion.
WHO SHOULD NOT TAKE THIS COURSE
CPAs and ENROLLED AGENTS SHOULD NOT TAKE THIS COURSE. Those with credentials who wish to earn the AFSP Record of Completion from the IRS may do so by taking a 3-hr Federal tax update in place of this course (6-hour AFTR). If you are an enrolled agent this course is not for you, it will not count towards IRS requirements. If you are an Enrolled Agent and wish to receive a record of completion you should take the 3-hour tax update course instead of the AFTR.
AFTR Exam Considerations
You have a maximum of three continuous hours to complete the 100-question AFTR exam.
You may attempt the test an unlimited number of times to receive a passing score of 70%.
You must pass the exam by December 31st (midnight local time) to receive continuing education credit.
Per IRS regulations, we cannot display any AFTR exam questions for completed exams.

Course Description
This 6-hour AFTR course provides a comprehensive review of the Tax Cuts and Jobs Act passed by Congress on December 22, 2017. Stay ahead of the curve in a competitive tax preparation environment with this course covering all of the essential developments impacting individual tax returns during the upcoming 2021 filing season. This course also includes a review of basic individual tax preparation information needed to prepare 2021 returns. Foreign account reporting is discussed, as is the problem of tax-related identity theft. Practices, procedures, and professional responsibility requirements mandated by Circular 230 are covered to equip the practitioner with the relevant information needed to complete a successful 2021 filing season. The course content is provided in a lively fashion focusing on real-world solutions to common tax preparation problems and is replete with examples and illustrations demonstrating how to apply the relevant rules.
Learning Objectives:
Upon completion of this course the reader will be able to:
Identify the major provisions of the TCJA affecting individual tax returns
Recognize the relevant changes affecting 2021 individual tax returns
Identify the applicable inflation adjustments and thresholds affecting 2021 individual tax returns
Distinguish potential sources of taxable income and deductible expenses
Identify the rules of professional responsibility applicable to preparers and preparer penalties
Course Hours: 6
Field of Study: Federal Tax
Course Level: Basic
Prerequisite: None
Delivery Method: Self-Study

Expiration: In accordance with IRS policies, access to this course will terminate at the end of the year. Incomplete courses will no longer be accessible or reportable to the IRS beyond the end of the year deadline.
AFSP Requirements for NON-EXEMPT preparers
The 18 hours must consist of:
6-hours of IRS Annual Federal Tax Refresher
2-hours of Ethics
10-hours of Federal Tax Law Topics
Who is EXEMPT from taking this AFTR course?
There are certain preparers who are exempt from the AFTR course requirement because they have already completed other recognized state or national competency tests. However, if these individuals would like to earn the AFSP - Record of Completion, members of the exempt groups must still meet other program requirements.
Preparers who can obtain the AFSP - Record of Completion without taking the AFTR course are:
Individuals who passed the Registered Tax Return Preparer (RTRP) test administered by the IRS between November 2011 and January 2013
Oregon, California and Maryland preparers who are current with testing requirements within their state.
Individuals who have passed Part 1 of the Special Enrollment Exam (SEE) within the past two years (as of date of upcoming filing season).
VITA volunteers: Quality reviewers and instructors with active PTINs
Other accredited tax-focused credential-holders: The Accreditation Council for Accountancy and Taxation's Accredited Business Accountant/Advisor (ABA) and Accredited Tax Preparer (ATP) programs
Credentialed preparers (attorneys, CPAs, EAs, ERPAs)
How does an exempt preparer earn the Annual Filing Season Program — Record of Completion without passing the AFTR?
EXEMPT PREPARERS can obtain the AFSP - Record of Completion by completing 15 hours of IRS-approved CE, consenting to Circular 230 practice requirements, and obtaining or renewing a valid PTIN for the filing season.
The 15 hours must consist of:
3 hours of tax law updates
10 hours of federal tax law topics
2 hours of ethics