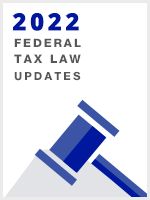 3 hours
Certificate
CTEC
IRS
NASBA
2022 Federal Tax Updates
Course Description
Stay ahead of the curve in a competitive tax preparation environment with this course covering all of the essential developments impacting 2022 tax returns for individuals.
Learning Objectives:
Upon completion of this course the reader will be able to:
Explain the tax implications of the various COVID-19 provisions to the tax code.
Identify the applicable 2021 inflation adjustments and filing thresholds
Recognize the relevant changes affecting 2022 individual tax returns
Identify the major provisions of the SECURE Act and Taxpayer Certainty & Disaster Act, and the CARES Act affecting individual tax returns
Field of Study: Tax Updates
Course Level: Basic
Prerequisite: None
Delivery Method: Self-Study
NASBA: 116347
IRS CE: UBWMF-U-00241-22-S
CTEC: 6209-CE-0150Expiration: In accordance with NASBA standards, access to this course will terminate one year from the date of purchase. Incomplete courses will no longer be accessible beyond the one-year deadline.
Last Modified: 05/12/2022