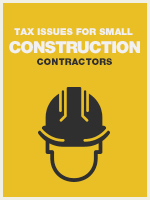 2 hours
Certificate
CTEC
IRS
NASBA
Tax Issues Related to Small Construction Contractors
The construction industry presents a variety of tax complexities for preparers. Among the difficulties is the generally required use of the percentage of completion method of accounting for construction contracts and the application of the look-back interest rules. Fortunately, there are exemptions for some of these complexities for the smaller construction contractor.
Learning Objectives:
Understand the concept of the percentage of completion method of accounting
Recognize the general rules for selecting an appropriate accounting method
Compare and contrast cash method and accrual method of accounting
Understand the Completed Contract Method and Exempt-Contract Percentage-of-Completion Method (EPCM)
Learn about AMT and its effect on long-term contract adjustment, S corporations, partnerships and look-back
Study the pros and cons of long-term accounting methods
Field of Study: Tax
Course Level: Intermediate
Prerequisite: None
Delivery Method: QAS / Self Study
Duration: 100 Minutes
Expiration: In accordance with NASBA standards, access to this course will terminate one year from the date of purchase. Incomplete courses will no longer be accessible beyond the one year deadline.