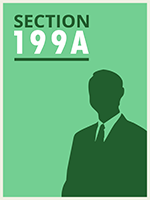 1 hour
Certificate
CTEC
IRS
NASBA
Section 199A Deduction for Qualified Business Income
Course Description
Lurking deep within the pages of the TCJA, a temporary deduction, called the Section 199A deduction or QBI deduction, is available for taxable years beginning after December 31, 2017, and before January 1, 2026. This course provides a thorough review of the new regulations.
Learning Objectives:
Upon completion of this course the reader will be able to:
Identify the components of the 199A deduction
Define what is not considered "performing services as an employee"
Recognize when an activity is a Specified Service Trade or Business.
Recall the requirements for aggregation.
Calculate carryforward if loss from PTP exceeds both REIT dividends and the taxpayer also has QBI component.
Indicate how the 199A deduction claimed on the return.
Apply the W-2 UBIA limitation for a partnership with no W-2 wages and income above the threshold amount.
Recognize the requirements for the real estate safe-harbor.
Field of Study: Federal Tax
Course Level: Intermediate
Prerequisite: None
Delivery Method: Self-Study
CE Hours: 1
IRS CE: UBWMF-T-00199-21-S
CTEC: 6209-CE-0141
NASBA: 116347
Expiration: In accordance with NASBA standards, access to this course will terminate one year from the date of purchase. Incomplete courses will no longer be accessible beyond the one-year deadline.
Last Modified: 04/27/2021