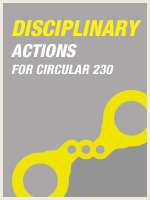 2 hours
Certificate
CTEC
IRS
NASBA
Disciplinary Actions for Circular 230 Violations
Introduction to Course:
This course outlines the basic sanctions imposed under Circular 230 and the process for imposing them. More importantly, the material digests dozens of disciplinary cases instituted under Circular 230 and categorizes the specific types of conduct leading to sanctions. Upon completing this course the practitioner will have a firm grounding in the patterns of activities that are likely to result in disciplinary actions, those defenses that may be successful, and the excuses that do not work.
Learning Objectives:
Upon completion of this course, you should be able to:
Identify the different sanctions the OPR may impose for violations of Circular 230
Determine party responsible for violations of Circular 230
Recognize the difference between frivolous arguments and reasonable basis
Define violations of Circular 230
Field of Study: Ethics
Course Level: Basic
Prerequisite: None
Delivery Method: Self Study
Expiration: In accordance with NASBA standards, access to this course will terminate one year from the date of purchase. Incomplete courses will no longer be accessible beyond the one year deadline.