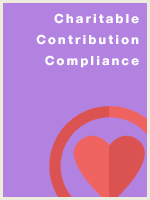 2 hours
Certificate
CTEC
IRS
NASBA
Charitable Contribution Compliance
Introduction to Course:
Charitable contributions are subject to a wide variety of special requirements. Only certain types of contributions to certain types of organizations are deductible for tax purposes. Furthermore, special substantiation and other compliance rules apply. This course provides a description of these requirements and tips for making sure that an intended charitable contribution meets the standards for deductibility.
Learning Objectives:
Upon completion of this course, you should be able to:
Recognize the elements of a deductible charitable contribution.
Differentiate between the rules applicable for contributions to public charities and private foundations.
Calculate the charitable deduction when something is received in exchange for a contribution.
Distinguish the charitable deduction limits applicable to individuals and corporations.
Identify the special rules for vehicle donation.
Field of Study: Tax
Course Level: Basic
Prerequisite: None
Delivery Method: Self Study
Duration: 100 Minutes
Expiration: In accordance with NASBA standards, access to this course will terminate one year from the date of purchase. Incomplete courses will no longer be accessible beyond the one year deadline.